Which slot game can be played free with Apple Watch in Canada?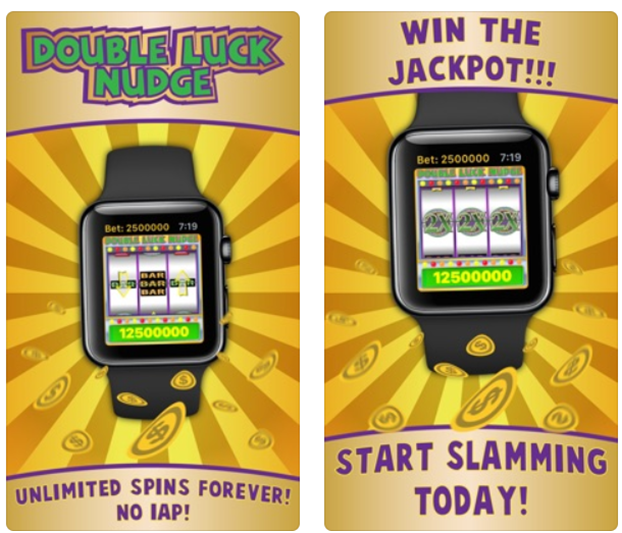 You can play this game even on your mobile!
There was a time when Canadian punters yearned to play slot machines with their mobile. But now almost all the Canadian friendly casinos online can be easily accessed to play slots in real time or free with Android or iPhone. Now it's the turn for smartwatches or gear watches to put their step forward offering slot games and recently this has really happened in Canada. You can now play an awesome slot machine with your Apple watch. This shows that time is not far when Canadian casinos will start offering their casino games on our smartwatches.
Double Luck Nudge – The first slot to play with Apple Watch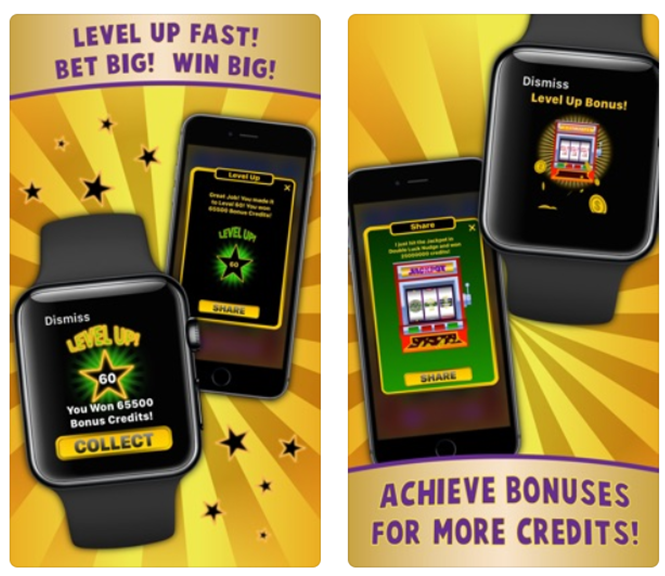 Double Luck Nudge is the first slot machine brought to you by professional, award winning, slot designers Purple Gator.
This slot machine is your favorite "old school Vegas style" 3 reel slot machine which finally offers the chance to play the slot you've come to love from casinos around the world!
The symbols in the game are your classic Cherries, 7's, Double Bars, and Nudges! All in one hypnotizing action-packed game! The three-reel casino slot machine has a unique nudge feature that determines the direction of the reel once it has stopped, giving bars with an arrow a final nudge up or down.
There are 10 different symbol types in the game and the 2x symbol (Wild) has the highest win value symbol in the game.
Double Luck Nudge – The game play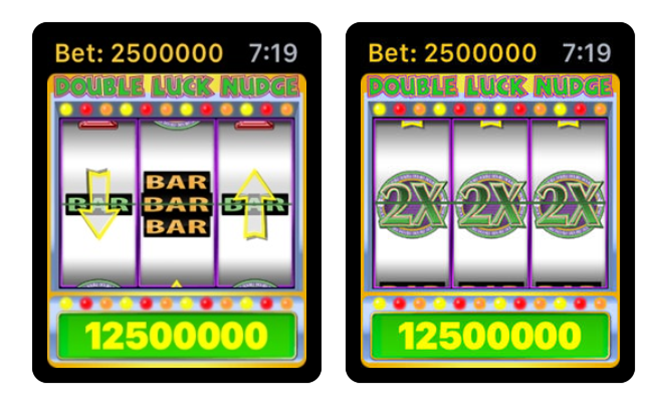 The arrow symbols in the game move the reels up- or downwards and grant you a second winning chance following a failed spin and might cause a Twist flood in your account! All you need for a win with Double Luck Nudge is to land 3 winning symbols along the line running from left to right. Keep an eye on the '2X' symbol: It can match all other symbols on the win line and increase your winning chances. Moreover, when it lands 1 x it pays double line wins, when it lands 2 x it even pays quadruple line wins! The cherry is rather frugal and already grants you Twists when only appearing 1 x or 2 x on the win line.
Double Luck Nudge Feature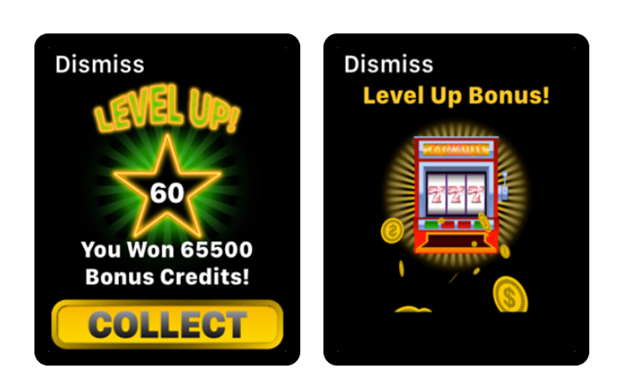 Double Luck Nudge comes with arrow symbols – regular symbols with an arrow pointing up- or downwards. If symbols with an arrow pointing down land above the win line, the reels showing the double symbol move one position downwards. Symbols with an arrow pointing up that appear below the win line move the relevant reels one position up. Thanks to this feature even an unsuccessful spin can result in a correct symbol combo!
How to get the Double Luck Nudge slot on your Apple Watch or mobile?
You can easily get Double Luck Nudge slot game on your Apple watch as well as on your smartphones.
Right now this game is available only for iPhone and will soon be available for Android mobile as well.
Click here to download the free game app from app store for your Apple Watch and mobile
You will be offered free credits to play the slot game.
Also get hourly bonuses or watch videos in the game for more free credits.
If you want to play with mobile you need iOS 9.0 or later iPhone to play this game
Remember that there are no in app purchases at this game