$25 Cell Phone plans for Canadian mobiles from different carriers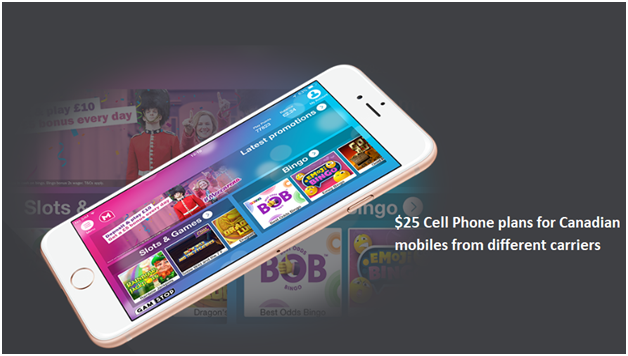 Public Mobile
Chatr
Freedom mobile
City Fone
Koodo mobile
If you think its only the costly plans out their for your mobile then you are wrong. Many discount carriers in Canada offer cell phone plans for $25 or less for every type of users in Canada. Flanker brands like Koodo, Fido and Virgin Mobile offer premium services at lower rates. Discount brands cut prices even further but exclude basic features like fast data or a customer support phone number. Here are few of the best cell phone plans of $25 or less and that also come with so many loyalty rewards.
Public Mobile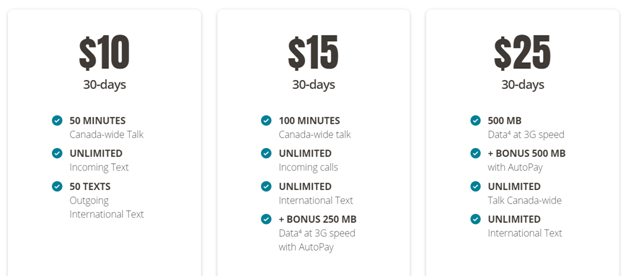 As low as $10 you can choose from ready-made plans with talk, text and data for prepaid plans. For smartphone plan with 1 GB 3G speed talk and text you get $25 plan for 30 days and get $2 credit on your next bill.
You can save up to $20 every 30 days by earning points in the Community.
Get referred and you'll receive a one-time $10 credit! Also $1 off your payment every 30 days for every friend you refer.
As a loyalty you are save $1 every 30 days after your first year. $2after your second year, and so on.
Click here to find more about these plans
Public Mobile receives access from Telus, Canada's largest and most reliable cellular network. Everywhere you go in Canada, you get unlimited nationwide talk and text with this $25 plan. When you sign up for AutoPay then they'll double your data to 1GB and credit your account with two bucks for the next billing period. That means your next 30 days on this plan only costs $23. 
Chatr Mobile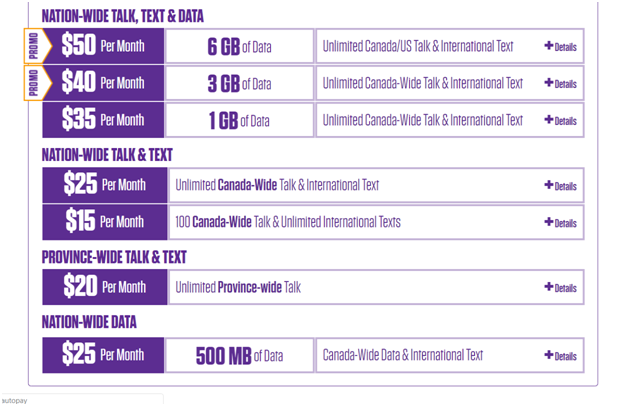 Chatr Wireless offers 1GB nationwide data plan for $25 a month with nationwide coverage. With 500 MB data at 3G speed you can continue using data at a reduced speed until your next Anniversary
Date with unlimited Incoming Canada-wide Talk, unlimited Text, Picture and Video Messaging and 40 ¢/min for voicemail retrievals.
Sign up for AutoPay pre-authorized payments with Chatr Wireless and you get 1GB of 3G data (around 3 Mbps) that works anywhere on Rogers nationwide network. You still get unlimited incoming calls and global text. You're not charged any data overages when you hit your monthly data cap and can continue receiving basic email, instant messages and app notifications.
Freedom Mobile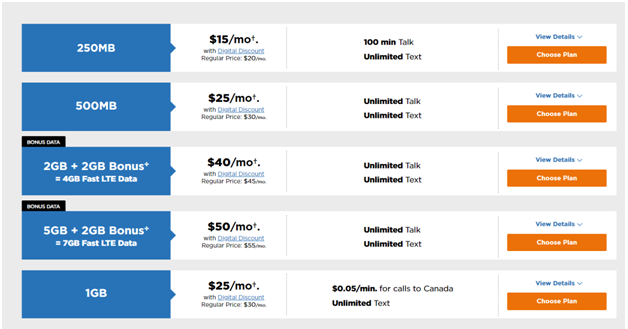 Freedom mobile data only plans gives you 1 GB freedom data for $25 a month and low per minute rates. You get the Fast LTE data you need with no data overage fees, plus talk and text under this plan.
Click here to know more about this plan
While on the Freedom Network you'll have full access to high-speed LTE over 100 Mbps. Unlimited incoming calls and all texts are included nationwide. Outgoing calls are only $0.05/minute. If you hit your monthly data cap, then there are no data overages but download speeds are slowed.
CityFone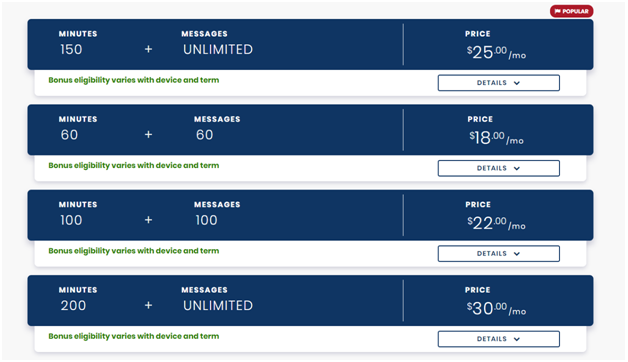 Free phone plans here come for $25 which is a talk and text plan and you get free moto e5 play with 2 year contract. Canadians can get a Motorola moto e5 play for $0 when they sign up on a $25/month plan with Cityfone for 2 years. Most smartphones cost $25/month or more on two-year contracts before you add a cell plan.
Click here to know more about this plan
 With Cityfone you get 150 minutes doubled to 300 daytime nationwide minutes, unlimited evenings and weekends for $25/month and a free Motorola moto e5 play smartphone when you sign up for two years. If you prefer Samsung, the same deal is available with a Samsung J3.
Koodo Mobile

Koodo mobile talk and text plan starts with $15 base plan plus booster for 30 days.
Pay just $15/month and you'll get a phone line where you can add minutes, data, and even international calling as you need them. Booster packs don't expire until they are used up. That means you could add a $10 talk booster and get 100 minutes. As long as you keep paying $15/month then you don't have to buy another booster until those minutes are used up.
Click here to know more about this plans
Activate online and sign up for pre-authorized payments and get some great bonuses including: 100 minute Canada-wide booster, 10% of your base plan price as a credit on next month's bill and $5 credit for the first four months (up to $20)
Now browse through all these plans as given above and choose the best for your mobile. Remember these plans are subject to change.