Pokie Magic Featured Slots – Mystic Palace
What is Pokie Magic?
Pokie Magic is a site that provides virtual slots and slot machine for any device, including Android. Regardless of the device you are using and of the game you choose, you need to activate the game online on the official site. However, the slots provided by Pokie Magic are an alternative to the real slots, as the games developed by Pokie Magic are only for entertainment, so that no real money can be played in these games. So if you really enjoy playing slots on your Android but you prefer doing this for fun instead of for money, then Pokie Magic is the perfect place to get your slots from!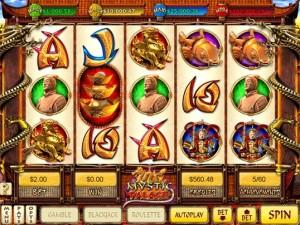 Mystic Palace Basic Info
Mystic Palace is a Featured game provided by Pokie Magic and it presents a Mystic Orient theme, with innovative graphics. This pokie contains:
A variety of possible features
60 achievements that can be won
An amazing double-up round that can be played
As all the other slots provided by Pokie Magic, this game is also for amusement purposes only, so that you cannot play this pokie using real money. Also, the odds of winnings differ in this game from real casino games, offering you greatest chances to win than a real slot game would.
Even though the game is only created for fun and it does not use real money, the player still needs to set the bet size in order to be able to play.
Mystic Palace Special Features
In the normal game, the terracotta warrior symbol is used as a wild symbol, thus being able to substitute for all the regular symbols in the game.
The fortune cookie symbol is used as a scatter symbol in this game, which means it pays in any position on the reels. Also, when three or more scatter symbols appear anywhere on the reels, the Double Lucky Gong Feature is triggered, in which the player will be awarded minimum 10 Lucky Gong spins.
The game also contains another special feature, called the Terracotta pot Jackpot, in which the player needs to rescue the ancient warrior in order to be rewarded with the jackpot prize. Also, during the normal play, the player has the chance to win any of the four mystery jackpots available.
Conclusion
So if you enjoy playing slots on your Android device but you are afraid of losing real money, then Mystic Palace is the perfect choice for you! Engage in hours of fun, without any risk of losing real money!
Pokie Magic Featured Slots – Mystic Palace

,