Playtech's Fantastic Four Slot Jackpot: A Closer Look into Progressive Gaming
Every credit matters as soon as the bar is set down and the reels begin to spin… Yes, we have just entered the realm of progressive jackpots! It is where most online gamblers risk in finding the conquest that is best described as — life changing. There are two sides to a coin however. One could lead to a successful venture while the other is completely the opposite.
Growing by the numbers
Today, progressive jackpots are very well renowned in the casino industry and even amongst the players themselves. The results can be huge and the establishments see this as an advantage in improving the customer traffic while the gamblers sees this as an opportunity to win big time. Let us see Playtech's popular 4-Slot jackpot machine with its very own FANTASTIC FOUR.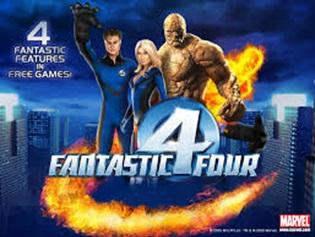 Up for the winning
In here, the wild symbol is represented by the Fantastic Four symbol, which can be replaced with another symbol aside from the bonus and the scatter symbols. In other words, it can help the player win combos straight away. If there are 5 wild symbols in the line-up, an instant 10,000 coins will be rewarded instantly. Meanwhile, triggering 2-4 wilds can bring in 40x up to 3000x earnings multiplied.
The fantastic jackpot
As with most slot games offered under Marvel Comics Franchise, the Fantastic Four also comes with a 4-tier progressive jackpot slot. Although it counts where luck would likely take you (be it to the Ultimate Power One, the Super Power, the Extra Power or the Power jackpot). Matching 3 identical symbols still gives off the jackpot prize. In any case, the jackpot only comes out randomly. Higher wager often triggers the jackpots though. After which, the player will select 3 out of 20 squares, each coming with its own respective prize. Here's a rundown.
Game provided by Playtech
Paylines consists 20, 50
Minimum Wager starts at € 10
Maximum wager is €500
Featuring FREE SPINS
Scatter Symbol: Planet Earth Icon
Wild Symbol: Fantastic Four Icon
Progressive Jackpot wins by matching 3 similar symbols
Gambler Meter
Progressive jackpots may have given out the impression of lower payouts but the increasing interest of players opting for this withstands all the possibilities. Essentially, it has come a long way as far as from what we have seen before. Today, there are more and more integrated casinos offering progressive jackpots. Perhaps this will have to do with the quick turn out of jackpot than anywhere else. Are you in?
Playtech's Fantastic Four Slot Jackpot: A Closer Look into Progressive Gaming

,