New Mobile App to Hit Australia Players
The New App
A new mobile casino has made its way to Australia.  The casino app is called All Jackpots Casino.  It has a total of 20 different games that can be played.  All of the games are featured with high definition detail and great graphics for players to enjoy.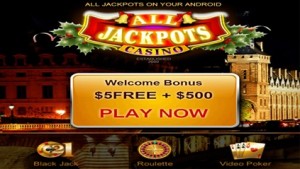 Games
The most played games in the casino are the slot machine games.  There are big named slot machine games that can be enjoyed by the players.  Some of the slot machine games include Mega Moolah, Tomb Raider, Mermaids Millions and Thunderstruck.  It also features other games like video poker, roulette and of course blackjack.
Casino Play
The casino offers the best updated technology found in casinos today.  With the extra security that is featured in the app players can feel safer about their deposits and withdraws on the mobile device.  The technology that is infused in the slots when using a smartphone is simple and easy to use.  All players have to do is tap on the phone to see the reels spins to bring them more winnings.
Features
The site gives players great incentives when playing on the platform.  It offers players a $5 bonus whenthey register and sign up to play on the casino platform.  This is given to players even when they do not deposit money into their account to play with.  When players finish signing up and filling out the required information needed they are given the bonus automatically.  However, if players choose to deposit money into their accounts to play with they will get an even bigger bonus.  Those players that deposit will then be given a $500 deposit as well.
Biggest Name In Casino Is Microgaming, Agree?
Yes, the casino is operated by one of the biggest names in the industry, Microgaming.  The site is available for play on many other devices as well.  It is designed as a flash that can be downloaded and played on any computer.  It can also be played on tablets of all kinds as well.  There are multiple different brands and models of phones that the site is compatible with.  These include the iPhone, Samsung S3 and S4, Google Nexus phones and more.  Some of the cheaper phones it is available on include the Nokia, smartphones from Windows and Blackberry phones as well.  Players can play their all time favorite games safely on their phone and win big money at anytime and on the go as well.
New Mobile App to Hit Australia Players

,