New Gaming App at Google Play
Every week there are new apps that become available for gamers. There is no longer the grueling task of trying to figure out what is hot and what is not thanks to https://www.bettermobilecasinos.com that takes the pain out of it for the gamers!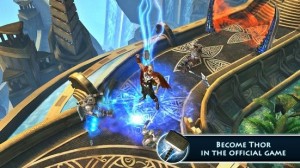 Thor: TDW – The Official Game by Gameloft
Step into the shoes of Thor with this official adventure game that is based on Marvel's Thor: The Dark World. Before the game can be installed there will need to be 1.5GB of free space. If download does not start then there is not enough free space yet on the device for the game.
Malekith is the Dark Elves lord and the arch enemy of Asgard. He is on a mission of destroying the Nine Worlds. It is up to Thor to race against time and free the universe from the evil of the Dark Elves. Take on Asgard's greatest avengers and warriors by slashing and hacking your way to the top. Thor is the last hope for the universe to once again be free.
Asgard Heroes
Summon 7 different types of valiant warriors known as Einherjar
Super abilities can be upgraded and unleashed on the enemies
Legendary Asgardians such as Warriors Three, Sif, and Heimdall are ready to let Thor fight and train alongside them
World Tree Dangers
Conquer some of the top villains from the movie like Rock Giants, Marauders, Dark Elves, Jotun, and many more
Defeat missions that are fast paced and offer different goals and challenges
Join the Allies and take a stand against the Dark Elves and the Marauders
Preparing for Battle
Thor has armor sets and 10 powerful hammers that need unlocked and upgraded
Unleash Thor's super skills that are devastating and decide which ones to equip and upgrade for the battle
Conquering the Arenas
Earn unique rewards by climbing the weekly leaderboard
Beating the world would be awesome, but defeating friends is grand! Greater rewards are waiting when dominating the Friends leaderboard
Step into the Survival Arenas and experience the increasing difficulty of the battle waves against Malekith
This is an ideal game for Marvel Super Hero fans that like films such as the Avengers. Thor is FREE to download and play and is considered an RPG, adventure and action games that die hard gamers will enjoy.
New Gaming App at Google Play

,