The App Duck Dynasty: Battle of the Beards is hitting
Are you a fan of Duck Dynasty? It seems like everyone is talking about these guys and the things they do. The reality series has viewers wondering just what those crazy guys are going to do next. Instead of wondering grab the new app and see what they are up to.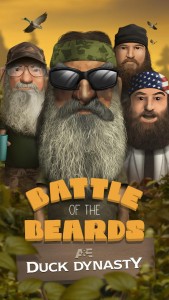 Where to find the App
The App Store has this lovely redneck game. Fans are now able to step into the shoes of their favorite redneck and see just how the universe revolves around them. Join the Robertson family down in Louisiana in their backwoods to see what kind of mischief can be stirred up.
Goal
Players are going to start out as a yuppie that is clean shaven. The goal is to become a duck hunting man that is sporting a mega beard. There is more to the game then just hunting for the next duck. Players will enjoy eating chilies, beaver dams can be blown to shreds, and there is even a competition that involves micro games that have rapid fire and will test every player's reflexes as they are dropped in the backwoods of Louisiana. Each player receives a reward when the challenges are conquered. Their beard is going to grow at epic proportions so they can become a full blown redneck.
Simple Tasks
Players will need to complete some very simple tasks and they will enjoy playing along the way. The tasks will continue on until the player fails three times then everything comes to an end. Some tasks will be:
Shooting bucks
Shooting ducks
Snatching frogs
Pepper tossing
Taping boxes
Painting faces
Reality Series
The show is a huge hit with viewers making sure they do not miss one episode. If the game just gets half the fan base that the show has then it will for sure be a huge hit.
The reality series is about a family and their unusual life they lead while making a fortune crafting products for duck hunting. They are known for a particular duck called Duck Commander. The series first came to television in March 2012. By the end of the 3rd season there were 9.8 million viewers. When the 4th season aired the fan base had grown to a whooping 11.8 million viewers. Check back next week at https://www.bettermobilecasinos.com to see what is new and up coming.
The App Duck Dynasty: Battle of the Beards is hitting

,