Supercell is the mobile game maker for Finnish and SoftBank buys a $1.5 billion stake in the game maker
SoftBank Corp is the Japanese telecom and tech group that paid $1.53 billion for a stake of 51% in the mobile game maker Supercell. This now gives the company a value of $3 billion for the hit game maker.
Supercell
Supercell has been in the business for three years and has made two free games for the mobile players. They have 100 employees and are now considered more valuable then the $2.8 billion company Zynga Inc that has made the well known hit "Farmville."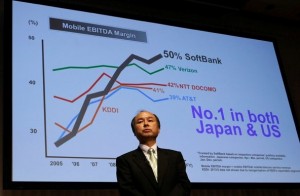 Softbank
Softbank's mobile games maker, GuhnHo Online Entertainment Inc, will be putting up 20% of the investment. The subsidiary company has a capitalization in the market of $8.3 billion dollars.
By Softbank buying stake in Supercell it values the company at 3.5 times its projected sales. Supercell sales a lot of virtual items in games, that rack up to $2.4 million on a daily bases. This is actually cheaper then when PopCap made a deal with Electronic Arts in 2011. The deal went through at around 11 times of what the company sold in the previous year.
Newzoo
Newzoo is a market researcher and they are estimating that global game revenue across all the platforms is going to be an astonishing $86.1 billion market by 2016. The actual number of gamers is predicted to hit 1.55 billion by then. Mobile gaming will grow the fastest and take up 30 percent of the market.
Masayoshi Son
This gentleman is the Chief Executive of SoftBank and he has a huge appetite for the foreign M&A. Just this year he acquired Sprint Corp for a whopping $21.6 billion. Mr. Son has an ambition to go beyond just services for the Internet and wireless business. He would love to eventually be the #1 Internet Company for mobiles.
Mobile Games
The market will continue to grow as mobile games become more in demand. When franchising in the mobile world it means things become tenuous. A good example is Glu and Zynga and the experiences both companies have went through.
This means when looking at things from this perspective, there is risk with the Supercell deal. The company first appeared in 2010 and had two games become number 1 in the App Store by Apple. The games were popular in 96 countries. The two games are:
Stay up to date with the gaming market at https://www.bettermobilecasinos.com.
Supercell is the mobile game maker for Finnish and SoftBank buys a $1.5 billion stake in the game maker

,