How To Play 243 Ways Online Slots At Mobile Casinos?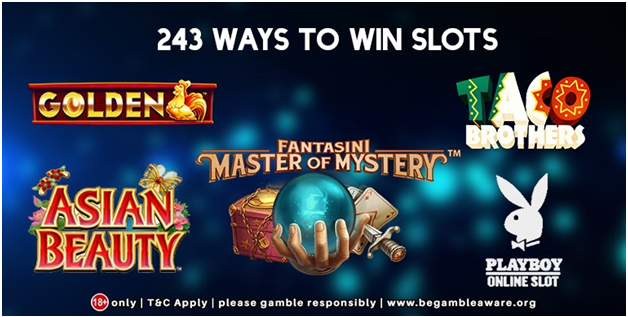 There are many kinds of slot machines available to play online. Slot machines The 243 ways slots literally means you have 243 paylines on which you can possibly win, or every likely winning combination a 5 reel slot machine can produce.
A payline, also known as betting line or winning line, is a combination of symbols that results in a win, on a slot machine.
In the traditional 3 reel slot, the horizontal line in the centre is the payline, and when you rack up a winning combination of symbols from left to right, you win the jackpot – simple as that.
More modern slots feature 5 reels and multiple paylines often as high as 25. Paylines occur after you have spun the reels and can show up in a variety of arrangements; zig zag, diagonally or the usual straight line. This also means lots more ways to win.
How to play 243 Ways Online Slots at mobile casinos?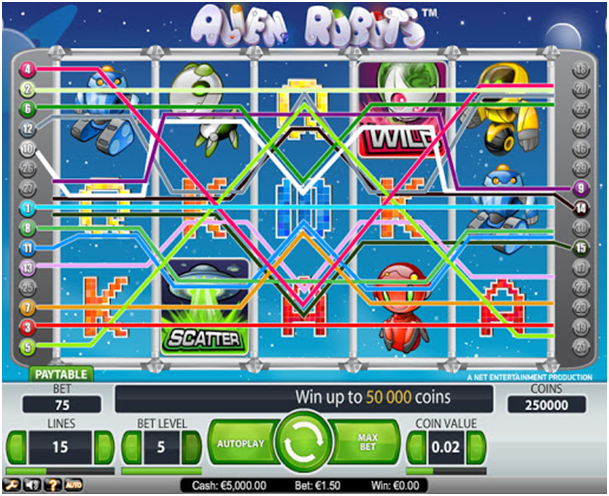 You can play 243 ways online slots at mobile casinos in Canada. These online slots offer video slots with 243 ways to win. Just be sure to filter or search for this game type when you are playing at their casino. The other option is to look at the game information and detail before you start playing. Any reputable online casinos will allow you to demo or even read a review prior to depositing real money.
Now pick your mobile and type the casino URL on your mobile chrome or safari browser.
Next register yourself and open your casino account
Make a deposit and go to slots games lobby to play 243 ways online slots.
To create winning combinations you need matching symbols to appear adjacent to each other on the reels. So for example if the same icon shows up anywhere on reel 1, 2, and 3 you have landed a winner. Like as an example in Jurassic world slot game as the Dinosaur appears on Reel 1, Reel 2 and Reel 3. Your win naturally increases should that icon also appear on reels 4 and 5. Every spin of the reels offers one of 243 potential payouts, regardless of how much you wagered per bet. On top of that, 243 way slots frequently include wilds, scatters and bonus features.
Wilds symbols can substitute any other symbol on the reels, aside from the scatters. In other words, if you land 4 matching symbols next to each other plus a wild, you are awarded a 5-of-a-kind win.
Scatters trigger a payout irrespective of the payline. They can appear as special symbols, or turn symbols into adjacent scatter symbols, depending on the type of slot you're playing.
Bonus features offer players additional spins or other fantastic ways to expand their winnings.
It's important that you understand the paylines and betting requirements before playing a slot game as you could unexpectedly lose a fair amount of money on a single spin before realizing the extent of the bet structure.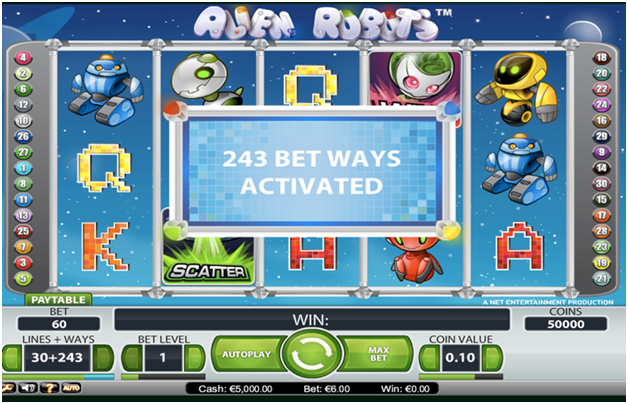 One thing to remember is that no matter what direction the reels spin, and no matter what number of paylines there is on a slot machine, a payline will always have to cross the same number of icons. For example, if you're playing on a three reel slot machine, the payline will feature three symbols.
When it comes to betting on paylines, you can work out a strategy which can help you to take even more winnings. The amount of paylines on a slot machine can have a huge effect on your bankroll, winnings and enjoyment, depending on how many you want to play with. For example, if a slot machine has a 25 winning paylines, and you want to bet 1 pence on each payline, every spin will cost you 25 pence. However, if you bet on all of the paylines, you will dramatically increase your chances of winning. Although some slot machines have fixed pay lines, where you have to bet on all of the paylines, some are variable, meaning you can choose how many paylines you want to play, and how much you want to bet on each line. The less paylines you play, the less chances of winning you will have, but each spin will cost considerably less!
You can join Spin Casino Mobile or Jackpot city mobile to play 243 Ways Online Slots at mobile casinos.