Best Freedom Mobile 5G Mobile Plans in Canada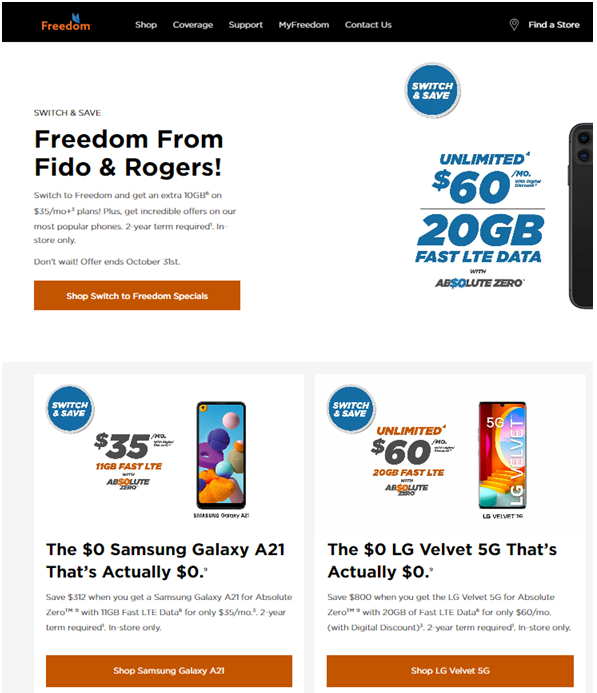 Freedom Mobile in Canada launching 5G coverage will give the Canadians real freedom to select the best of options to get most out of their mobile plans. Canadians get exclusive to premium Big Gig Unlimited plans also as the service may also expand to its sibling wireless provider, Shaw Mobile.
Many Canadians have access to 5G through Bell, Rogers and Telus and now with Freedom Mobile one can expect that buying a smartphone like the Samsung Galaxy S20 5G now should enable you to get online with Freedom 5G. Here is the best mobile plan now on offer.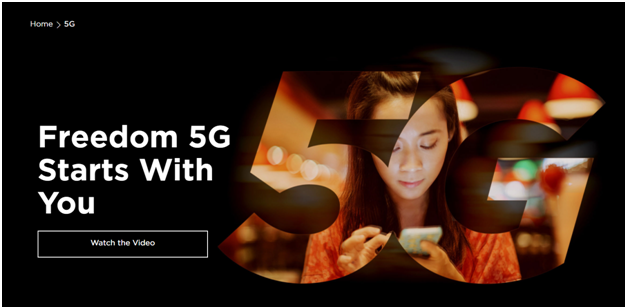 Samsung offers the widest selection of 5G-compatible smartphones in Canada, and nearly all models are available at Freedom Mobile.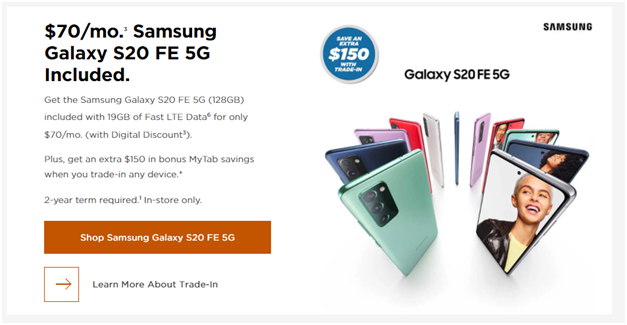 The Samsung Galaxy S20 FE 5 G plan comes with $70/mo. This plan includes 19 GB data of Fast LTE Data plus get an extra $150 in bonus My Tab savings when you trade in with any device. This plan comes with a 2 year term.
Other Samsung mobile Freedom mobile plans are: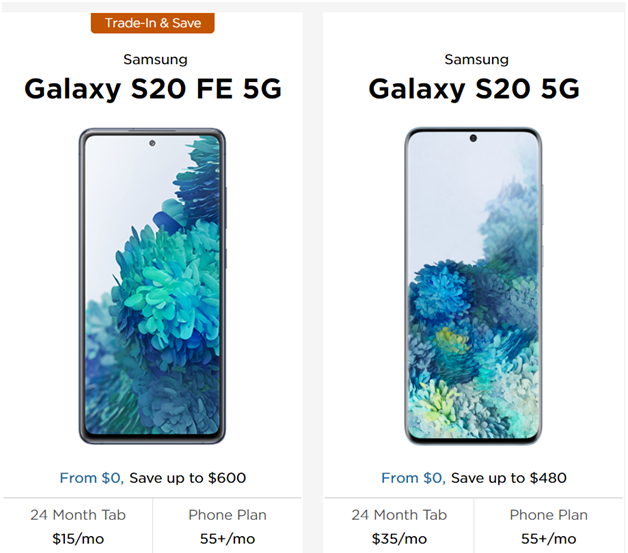 Freedom Prepaid Plans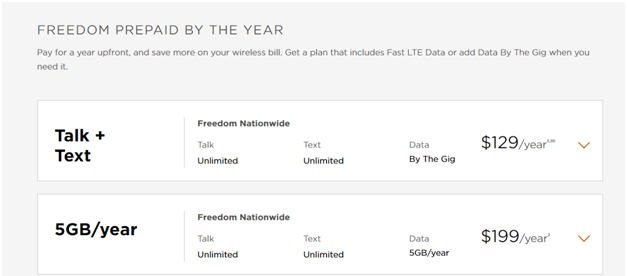 Talk and Text Special offer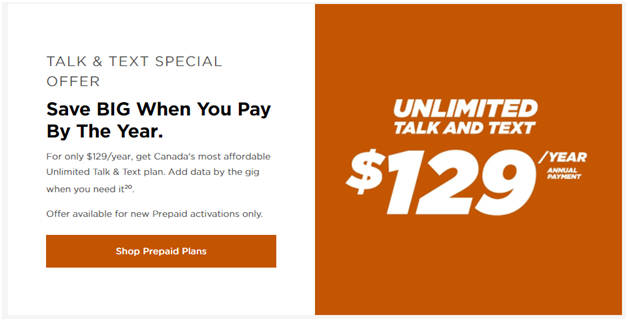 Freedom Mobile coverage is limited to urban areas of British Columbia, Alberta, and southern Ontario. When Freedom Mobile opens access to 5G service, you can expect to see it available out west in Vancouver, Calgary and Edmonton. Deployment in Ontario could include Ottawa and the Greater Toronto Area.
You may need a cell phone plan with a lot of data, a low monthly price, or a bit of both. Freedom mobile offers three categories of smartphone plans, but don't expect to find 5G access available to them all.
With Freedom Mobile 5G service, expect it to be exclusive to Big Gig Unlimited plans. Fast downloads common with 5G networks are best suited to a plan that won't add data overage charges after hitting your monthly cap. Big Gig Unlimited plans include Canada-wide calling, lots of full-speed LTE data on Freedom Mobile's primary network, a bit more data for roaming nationwide and unlimited downloads at slower speeds even if you cross your monthly data cap.
Also Freedom mobile offers plans for other mobile smartphones like the Motorola edge+, Velvet 5G from LG, and the upcoming Pixel 5 and Pixel 4a with 5G smartphones from Google.
The next generation of Apple iPhone will support 5G connectivity and be sold through Freedom Mobile.
Samsung Galaxy S20 Plans: 128GB
Samsung Galaxy S20+ Plans: 128GB – 512GB
Samsung Galaxy S20 Ultra Plans: 128GB – 512GB
Samsung Galaxy Note20 Ultra 5G Plans: 128GB
Samsung Galaxy Flip 5G Plans: 256GB
LG Velvet 5G Plans: 128GB
Motorola edge+ Plans: 256GB
Google Pixel 5 Plans: 128GB
Google Pixel 4a with 5G Plans: 128GB (coming soon)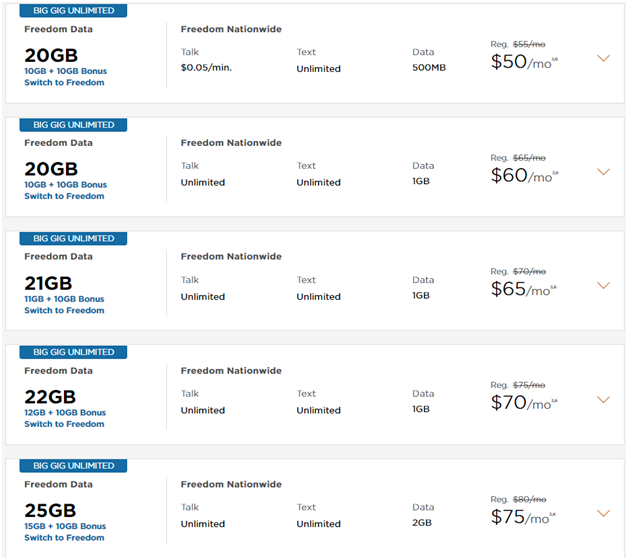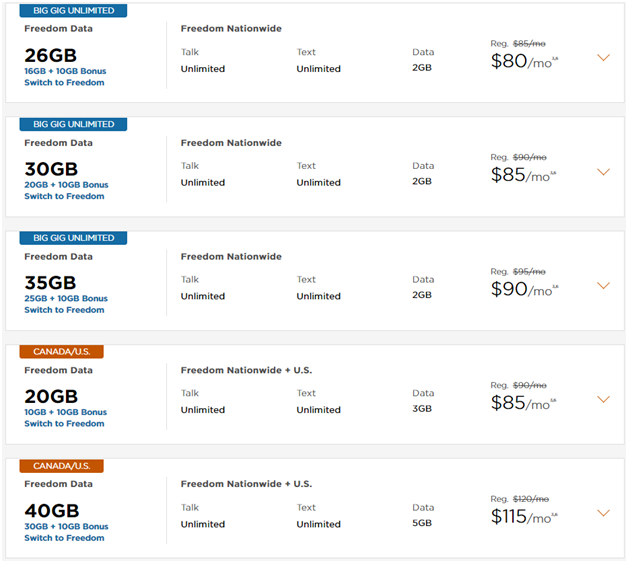 Shaw Mobile recently launched in B.C. and Alberta using the Freedom Mobile network. Both mobile providers are fully owned by Shaw Communications, but Shaw Mobile plans offers low-priced deal for existing Shaw home internet customers. Just like its sibling wireless provider, Shaw uses partner networks to provide access for customers across Canada. Shaw Communications has been testing 5G in Alberta since at least 2018. Since Shaw also provides home internet services, wireless networks that include 5G broadcasts will be used to reach further and transfer data faster for rural internet deployment.
The Canadian government has strict regulations when it comes to wireless broadcasts. Existing cellular signals are broadcast at frequencies and power levels that are well within safe limits. Freedom Mobile's 5G service will initially use the same frequencies as the existing 4G LTE network infrastructure. Low and high band frequencies that come later will continue to use power levels that are within the national safety limits as defined by industry experts. (With inputs from Whistle Canada)
Click here to find the latest plans offered by Freedom mobile in Canada