Facebook is Encouraging Users to Start Engaging with Apps as they Release their Ad Unit for Mobiles
Facebook and companies placing ads have both seen the benefits of working together when it comes to using apps. For boosting engagement the company is releasing a new line of ads for the mobile, once the app has been downloaded by the user.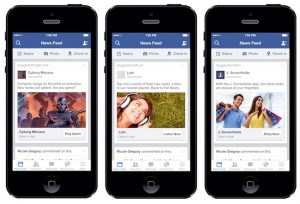 Huge
App developers along with Facebook know just how big this can be for everyone. When a user already has an app on their phone they will now be prompted to do a number of different things when the ad is playing. The user could be instructed to listen, play or possibly shop with the app. It is as simple as watching for the prompt button and tapping on it for going to the game or app.
App Developers
When the app developers are ready to create ads they have two options with how to precede:
Power Editor
Preferred Marketing Develop within Facebook
Facebook has announced the 10 percent of ad developers for the mobile will get these options today while the rest will get the same options on October 8th.
Facebook's Success
One of the main reasons Facebook is successful is because of the install ads for the mobile app. Mobile advertising has moved to a whole different level with Facebook. By the company expanding on the mobile advertising and making the new move it could enhance their bottom line even more. So far in this year along thousands of different ad companies have jumped on board which has lead to a whooping 145 million installs.
A Solution
Facebook is striving to make the problem of opening an app a dozen times to only having to open it 1 to 10 times. With the new program in place, app developers can now choose from among 7 actions when building the ads. The actions are:
Watch video
Play game
Use app
Open link
Shop now
Book now
Listen now
Sometime during the future there could possibly be more actions added as more app developers start using the platform. The actions can actually send each user to a particular part of the app. An example would be the screen for listening to a particular artist or booking a hotel locally.
Wider Audience
The audience would be much wider that the advertisers could target. A user could be reminded to use an app that has not been utilized in a while. This would have a much better success rate then when the user just gets a notification. Since the barrier for installing the app would be overcome the hopes are the used will just tap right through. Check back in the future at https://www.bettermobilecasinos.com to see how it all went over on Facebook.
Facebook is Encouraging Users to Start Engaging with Apps as they Release their Ad Unit for Mobiles

,