Developers are in the Cloud when using Amazon's AppStream Service
Did you hear about Amazon? They made a huge announcement a few days ago in Las Vegas at their reinvent developer conference regarding their new services just for mobile developers. The company recently launched their g2 EC2 instances and this is what the new Amazon AppStream will be using. The app will let developers stream their applications easily in high definition by using the cloud with any mobile device. Even though Amazon is marketing the app for the mobile developers this service could also be used by desktop apps.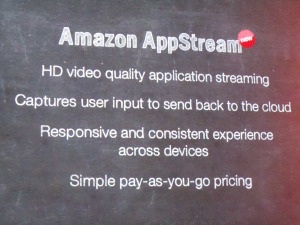 Preview
Developers are encouraged to click the following link, http://aws.amazon.com/appstream/, in order to sign up and gain access since the service is in limited preview.
What it Allows
When developers use the new app they will be able to build applications that are graphically rich, and high fidelity that can run on a variety of different devices, instantly start, and will have access to everything the AWS Cloud has to offer when it comes to storage resources and computing.
Protocol
When using Amazon's STX, their engineers were able to develop a new protocol; developers will be able tot stream anything from intensive parts that are computationally of their apps to complex 3D games that are interactive HD video all from the cloud. Developers will be able to render all their graphics right to the cloud when using g2 instances on Amazon's EC2.
When the AppStream is being used by apps all the device's sensors can be used also and then the data will be sent back to the cloud.
Resources
Andy Jassy, Vice President of Amazon's Web Services, noted that mobile developers will have easy access to a number of resources that normally would not be available on the mobile device. He argued that mobile devices are getting smaller and the cloud will become even more important. Some of the more popular apps have already taken advantage of the cloud and AWS and are already running on them. Basically Amazon is saying that applications are no longer constrained because of the compute power, rendering capabilities of devices graphically, or storage.
Want more news articles? Go to http://www.bettermobilescasinos.com where news is kept current for the readers. There is so much more for readers to enjoy and learn about all in one place. There are even some fun games for everyone to play when they have a few minutes to kill.
Developers are in the Cloud when using Amazon's AppStream Service

,