Can Your Team Dominate The NFL?
Have you been paying attention to the TV commercials? Football fans are in app heaven with this mobile app. DirecTV and Verizon have stepped up and is taking things a step farther in the right direction. If you happen to be a Sunday Ticket subscriber then you can watch every game on your tablet or phone.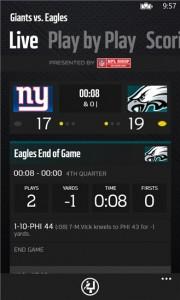 Craving
A true die hard fan of football just cannot get enough of the sport and seem to always be craving more. That is why they turn on their DVR's for all the preseason games and even take the time to watch the highlights of the training camp. Not to mention getting together a fantasy team for kicking some royal butts on the field!
No DirecTV?
Not everyone has access to DirecTV and this is where Verizon comes in. If you are a subscriber to Verizon with your mobile service then you will get the same luxury. The NFL Mobile app on Verizon is actually being combined with two other apps. One for watching scores and highlights and one for watching the live games and everything only costs a mere $5 every month. What games you will be able to watch are:
NBC Sunday night football
Game on Monday through ESPN
Game on Thursday through NFL Networks
Much More
Besides being able to watch the games on your mobile device or tablet you can see where your favorite team stands at all times. If in doubt who is playing and when, the schedule is just a touch away on your device. You can even check out the stats on your favorite player. There is even a quick link for purchasing tickets to any of the games available. Can it get any better then this?
Where to find app
The NFL app can actually be picked up from a few different sites. If you have an iPad or iPhone then click this link https://itunes.apple.com/us/app/nfl-mobile/id389781154?mt=8. For any Android devices then go to https://play.google.com/store/apps/details?id=com.gotv.nflgamecenter.us.lite&hl=en. The windows phone owners will need to go here http://www.windowsphone.com/en-us/store/app/nfl-mobile/a6132ec2-c423-4d37-8277-15a43beb184e.
One app for the true die hard football fans that can be used anywhere and any time. Never again miss the action because you are in the kitchen rocking the wings. Everything you ever wanted to know about the game is offered in one simple app. You still have time to grab it before the game on Sunday! Check back often at https://www.bettermobilecasinos.com to see what is new!
Can Your Team Dominate The NFL?

,