The three useful apps for your smartphone that might come handy on vacation season at Saskatoon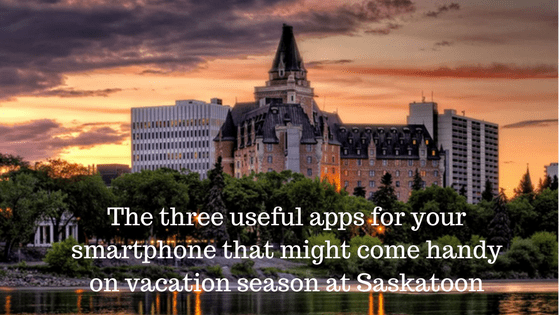 If you are planning for holiday and making a plan to go for a trip at Saskatoon then here are the three useful apps for your smartphone. Saskatoon is named after the berry of the same name, which is native to the region, and is itself derived from the Cree misâskwatômina. It is known for its diverse and vibrant culture and its eight river crossings that give it the nicknames "Paris of the Prairies" and "Bridge City." It is the largest city in the Canadian province of Saskatchewan and was named as the fourth most travel-worthy destination in Canada. Saskatoon is home to the University of Saskatchewan,  the Meewasin Valley Authority  which protects the South Saskatchewan River and provides for the city's popular riverbank park spaces, and Wanuskewin Heritage Park, a National Historic Site of Canada representing 6,000 years of First Nations history.
1. Saskatoon Transit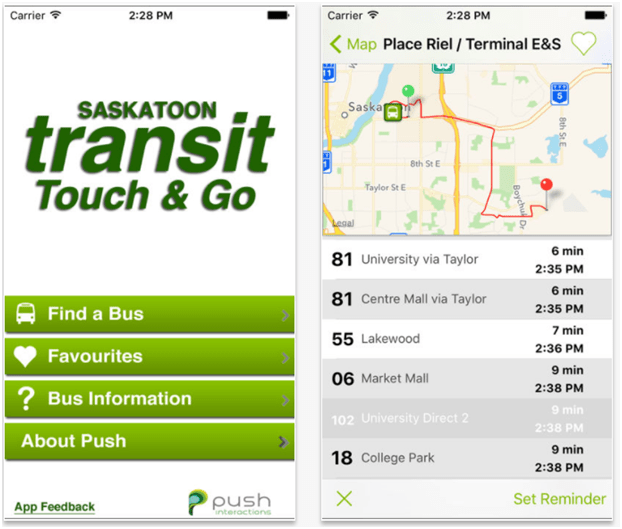 If you wish to use the bus service then Saskatoon Transit Touch and Go is your on the go Bus Schedule app that can be downloaded on your smartphone all free. No matter where you are in Saskatoon this app will tell you how to get to where you need to be using the bus.
You can locate the bus stops nearest to you and select your desired pick up location. Get predictions of upcoming departure times for your selected stop and set reminders to ensure you don't miss your bus. You can view and follow the route to your destination. Also mark your favourite bus stops and view information on fares and more.
2. Saskatchewan Emergency Alert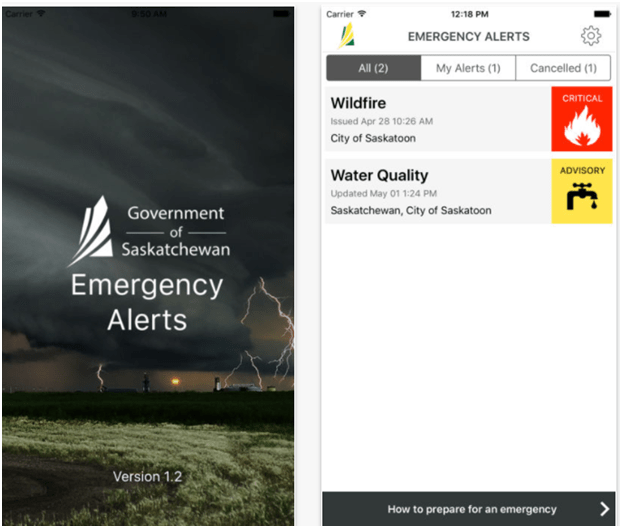 SaskAlert is the Government of Saskatchewan's emergency public alerting program that provides critical information on emergencies in real time, so you can take action to protect yourself, your family and your property.
Alerts are issued by Environment Canada, Government of Saskatchewan ministries, Crowns and agencies as well as participating municipalities and First Nations.
You can get alert on weather from Environment Canada about any Tornados and its warnings alongwith alerts for blizzard, blowing snow, dust storms, extreme cold, freezing drizzle, freezing rain, heat and rainfall, severe thunderstorm, snowfall, wind, and winter storm.
Alerts issued by the province as well as by local municipalities and First Nations may include wildfires, flooding, train derailments, power outages, drinking water advisories, local emergency declarations, communication outages, road closures, and evacuations.
3. Saskatoon App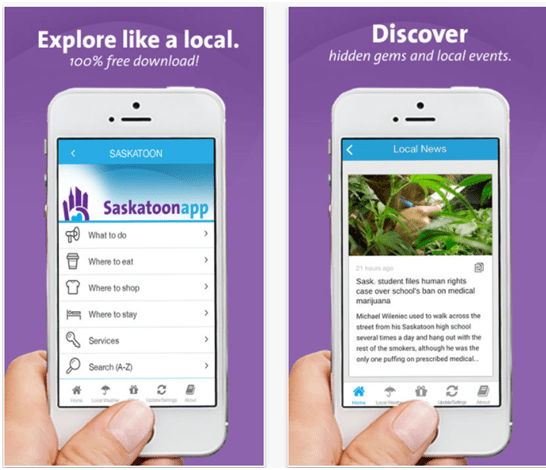 With Saskatoon App you can explore the city like a local and know what's nearby, connect with great local businesses, claim exclusive special offers, plan your trip with local weather forecasts and stay connected with what's happening in Saskatoon, Saskatchewan.
This app acts like your pocket travel and local business guide, giving you lists and locations of the best Saskatoon restaurants, stores, local attractions and much more. You can also explore places of interest near you and easily access directions, discover great deals offered by your favourite local business and look up addresses, phone numbers and websites or call a local business directly from the app and plan your trip with a seven day Saskatoon weather forecast.
All the above apps are available to download free from the app stores be it iTunes or Google play.
If you are interested about Saskatoon news and latest affairs then also have Saskatoon StarPhoenix app which will let you know about breaking local, national and international news and stories.