Square Enix Montreal – Synonymous with Superior Mobile Games
Dealing with mobile stigma in gaming, should be next in the agenda.
Lara Croft Go, the return to basics 2D puzzle is the chosen game of the year by Apple and it so deserved to be named as such.  The game's developer, Square Enix Montreal is not new to mobile gaming.  The company was established initially to do the Hitman project intended for consoles but it was eventually cancelled and evolved to the production of superior games for tablet and smartphones.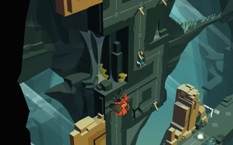 After the release of Hitman Go in 2014, there is no stopping the creative team as they released the outstanding Lara Croft Go and Hitman Sniper, just approximately two months apart from each other.  Producing consistent hits has given Antoine Routon and his team, which exclusively works on mobile gaming, more leeway to play around with Square Enix's major properties in innovative ways.  Routon once commented that they have acquired the privilege of creative freedom as they have consistently produced good games.
Not a single of the studio's games were intended for console release then forced onto smartphones as Routon recognizes that this will not be a very good idea for everybody.  This is a path Routon and his team will never take because they know all too well what it needs to make an excellent mobile game.
Creating a winning mobile game
When asked what it is that makes for a winning mobile game, he intimated that the creator should be "intimately familiar with mobile gaming on a personal level."
What could be a good approach to producing mobile properties in a way that the fans don't feel they are being exploited for cash? The games Lara Croft Go and Hitman Go were designed from the start for mobile and it indeed excellently fitted the platform.
Routon further said that the games could be designed to work as cash-grabs, but that will not make them happy, and the same goes for the players.  Thus, the game will not be making that much money.  It will really be hard to find the winning formula to earn good money in the video game industry.  The primary option is to create a really excellent game which is already quite hard.
For the creative team of Square Enix Montreal, to be able to create an excellent game, they will have to really understand and envision what they are working with.  How do things go in Lara Croft's world?  Or how do things work in Agent 47's world.  You also have to consider the platform they are working with.
Current Fav Games
What games do Routon consider his favorites nowadays?  Trick Shot, Year walk, and SPL-T, some of the most highly commended games today.
Square Enix Montreal – Synonymous with Superior Mobile Games

,