Is there anything better then walking around the carnival while hearing the laughter, screams, entertainment, and all the lights? Honestly, there is something that is better then walking around all that! It is bringing all that plus more to your mobile device with the slot machine carnaval from CasinoCity.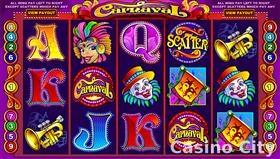 Colorful Symbols
It would not be the same to have a slot machine with the theme of the carnaval and everything is looking dull. Thank goodness this slot machine has went all out to have the colors bright and popping just like they do at the carnival. Some of the symbols that can be enjoyed while winning are:
Cheerful clown
Beautiful Queen
Stern King
Fast Jack
Glistening trumpet
Hot dancers
Carnival logo
Scatter
Quick Money
The slot machine is a 5 reel machine that has a payout of 9 lines. Where are the bonuses? There is not any, but the money can compile rather quickly with multipliers in place. For instant when the Carnaval logo comes to a halt on all 5 reels you will hear the clanging of change since 5,000 just got won. When there is 5 dancers on the screen smiling you will get another 650 coins, but if each reel had a bet of 5 coins then the win will be 650 times 5 which equal 3,250 coins at once!
Scatter
When this scatter hits, and it will, be ready to hoot and holler. No bonus is triggered instead the multiplier will leave your mouth on the floor. When the scatter hits it only takes three to get a 2x payout, while four will give a 10x payout, and for the big 50x payout there will need to be five scatters on the screen at once.
How to Play?
Playing is simple just click the link www.jackpotcitycasino.com and you will be taken directly to the casino.
Create account
Go to home page and log in
Make a deposit
The casino loves giving away deposit bonuses so make sure and take advantage of them. There is a bonus in place for the first three deposits you make. They are:
First deposit 100% match to 200
Second deposit 100% match to 100
Third deposit 100% match to 200
Come join the fun at the carnaval and get ready to have a ball!
Carnaval Mobile Game

,