Which sports betting app is most popular in Canada?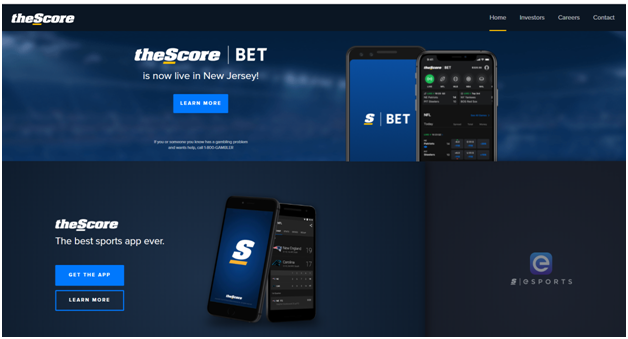 Score Media & Gaming Inc. better known as theScore is become the leading Canadian sports bookie app.  The Toronto-based company, which sold its television asset nearly a decade ago, and has since seen its sports news app has become one of the most popular in North America, launched a new app in September in New Jersey where mobile sports betting is permitted called theScore Bet. It allows users to make a bet on any single game in any of the major leagues, with golf and tennis being added in the near future. TheScore has deals to expand to a dozen other states in the coming years.
Presently, the two apps work together a lot like Facebook and Facebook Messenger. A user can scroll through the media app for news and scores, but if they want to place a bet, due to regulations, they're transferred to a different app.
However, theScore is far from the only company taking bets in the U.S. More recently-founded betting providers like FanDuel and DraftKings, which made their names in daily fantasy sports, are also busy striking deals to offer single-event betting in different states.

In Canada, legislation is still preventing companies from facilitating sports-betting operations. According to Paul Burns, the Canadian Gaming Association's President and CEO they've had legal sports betting in Canada for decades referencing provincial products like Pro-Line. But you have to bet on the outcome of more than one event, due to a restriction in the criminal code that they'd all like removed.
The provision in the Criminal Code Burns is referring to, under section 202, is one that prohibits single-event wagering. But even if that is struck down, sports wagering, like the lottery, is under provincial jurisdiction.
But bettors are finding a way around these federal restrictions. Canadians are placing up to $4 billion dollars' worth of bets per year through offshore sites that do allow single-game wagering. TheScore's claims of having up to four million active quarterly users, many of whom check the app multiple times a day . The company's third-quarter results, released in late October, revealed revenue that jumped 25 per cent compared to last year.
The Score App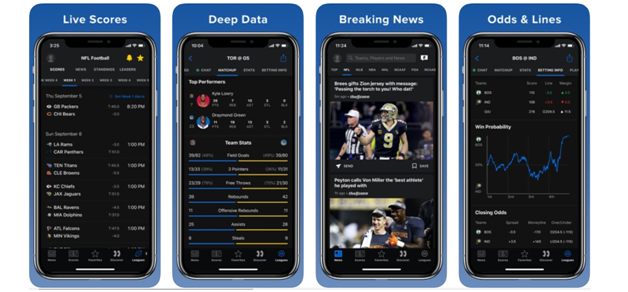 Rated as 4.7 at the Canadian app store theScore, sports betting offers coverage of NFL, NBA, NCAA, MLB, NHL, English Premier League Soccer, La Liga Soccer, Champions League Soccer, and every major league and competition. theScore delivers real-time scoring updates and alerts, breaking news, the deepest in-game stats, videos, and social content. theScore is fast, comprehensive, and super simple to use and with the new theScore Bet Mode you get instant access to lightning-fast scoring updates and data (no need to pull-to-refresh), real-time odds, and additional betting content. Activate Bet Mode from your profile page.
You can personalize your favourite team or sports.  All the content you care about from your favorite teams, players and leagues. Just tap 'Manage' to add, delete or reorder your favorites. Set-up notifications so you'll never miss a key moment!
Chris Boucher with the big time denial. ❌💪

(🎥: @Raptors)
pic.twitter.com/Wngs5Kw3cu

— theScore (@theScore) November 12, 2019
The app offers live view of every game. Every score at a glance, updated in real-time. Just tap the matchup for detailed box scores, including live player data, odds, news and multimedia.
The most interesting feature of the score app is cool chat and messaging features, helping you connect with other fans around the games and content you love. Public Chat is available in every matchup page, while you can also set-up group messaging with friends and family or just chat 1-1 too through the 'Messaging' icon found in the top right of the screen.
Also, uncover the biggest social stories and multimedia that's got sports fans talking as you get updated on the top headlines in an instant from across all sports, or tap the league you want at the top of the page to dive deeper.
You can check out the latest news, scores, standings, and leaders for the sport you care about. Customize by tapping 'Manage' to reorder or even delete the sports you don't care about.
Sports you can bet on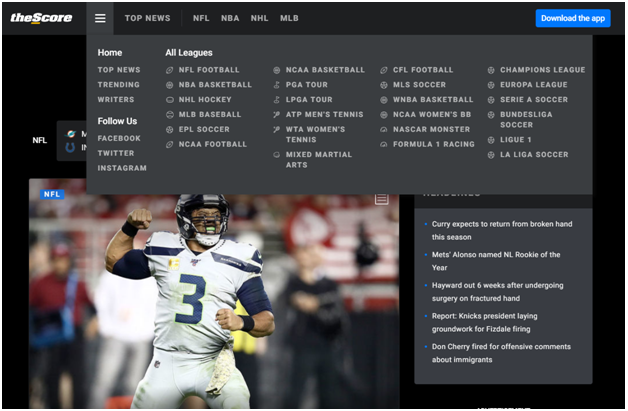 The Score offers deep coverage from every major league and competition and you can bet upon variety of sports. Be it  Football (NFL Football, NCAA Football and CFL Football, regular season and playoffs); Baseball (College World Series and MLB Baseball, season play and playoffs); Basketball (NBA Basketball, WNBA Basketball, NCAA Basketball – including NCAA Men's Basketball Tournament and playoffs);  Hockey (NHL Hockey, IIHF WJHC – World Junior Hockey Championship, NCAA Frozen Four);  Soccer (Premier League Soccer, Champions League, FIFA World Cup, Serie A, La Liga, Bundesliga, MLS, – FA Cup, League Cup, Europa League, Ligue 1, Coppa Italia, Copa Del Rey and Liga MX, UEFA European Championships); Golf (PGA, LPGA, Ryder Cup, European Tour, Web.com Tour); Tennis (ATP, WTA), with the US Open coming in August;  Mixed Martial Arts (MMA: UFC and Bellator); Auto Racing (NASCAR Sprint Cup, Formula 1); Lacrosse (NLL) and others.
If you need any help with the app you can contact via the Settings menu on your homepage or email via thescoreapp@thescore.com. You can also chat to us on Twitter via @theScoreHelp.