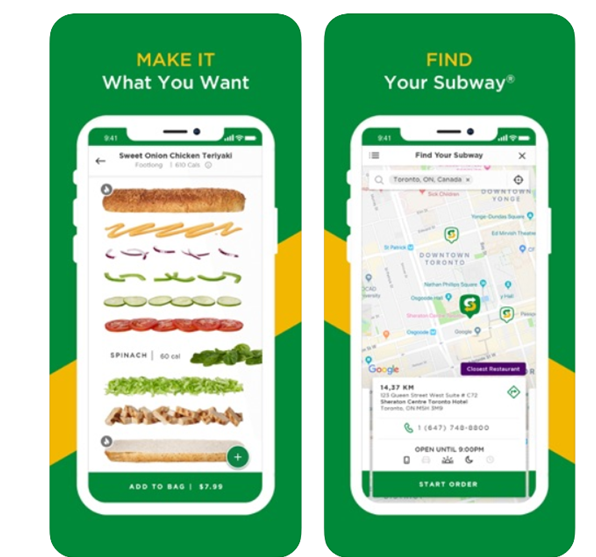 Subway Canada has announced a buy one get one (BOGO) promo for a footlong sandwich, within the company's mobile app. Subway will offer a free footlong sandwich with the purchase of another footlong, when customers download and order via the Subway mobile app, for a limited time only. Subway's mobile app has also recently added Apple Pay in-app support plus curbside pickup at select locations. This promo is available for all customers, or only new registrations within the app.
With the Subway Canada mobile App you can order ahead to access Express Pickup, get digital coupons, earn on purchases, scan to pay and more — all in seconds!
Best features of Subway Canada Mobile App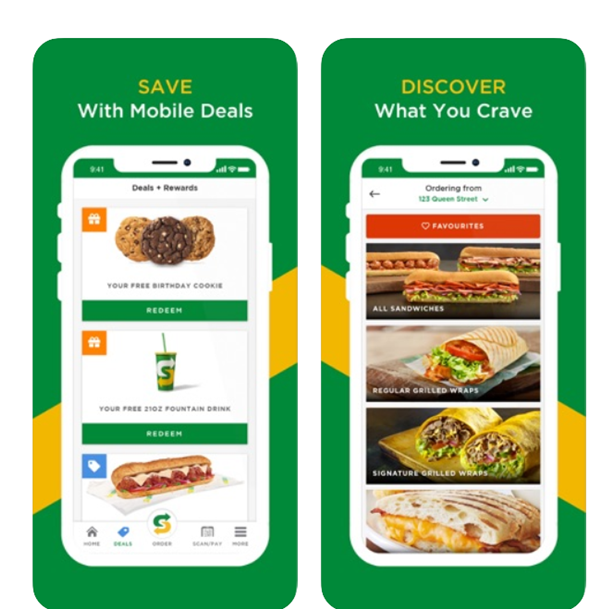 Use the Subway App to get the food you love, quickly and safely, with Contactless Curbside Pickup. Ordering is even easier when you use Apple Pay: Select "Curbside Pickup" in your cart, tell your car's make and model, and they bring your food out when you arrive.
With Subway MyWay Rewards built right into the app, you can earn on every purchase, plus get Surprise Rewards, exclusive deals and more. Consider it a "token" of their appreciation for you!
Get digital deals sent right to your app, personalized just for you.
Customize your sandwich just like you would in the restaurant. Swap your cheese, pick your toppings, toast your bread – the opportunities are endless.
Add a sandwich with suggested toppings directly to your bag – keeping decisions low but deliciousness high.
Also name and save your fave to make reordering a snap.
Pay for your food ahead of time through the App or in-store using your mobile wallet.
Find a Subway Restaurant near you, get directions, view hours and other things you want to know – like if the restaurant has a drive thru or serves breakfast.
Mobile ordering is only available at participating restaurants, outside of Quebec.
With COVID-19, contactless ordering has arrived via a new "Curbside Pickup" option in your cart. In August 2020, Subway for iPhone added support for Siri Shortcuts, to allow users to place orders with Apple's virtual assistant.
With Apple Pay, iPhone customers can just use their existing credentials setup within the mobile payment method to pay for purchases in the Subway app. This eliminates the need to use a credit card or store one on file.
How to get started with Subway Canada Mobile App?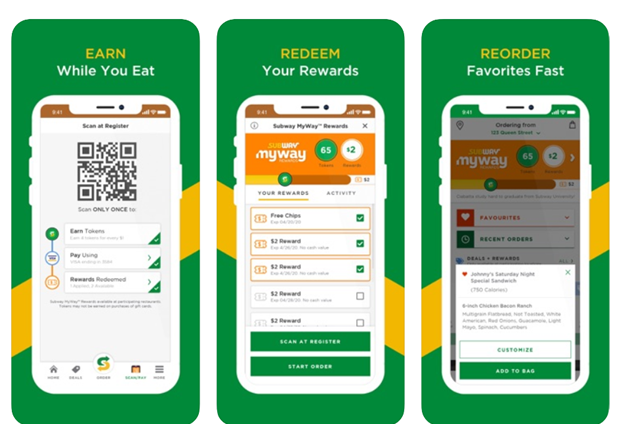 It's quite easy to get started to order your favourite food with Subway Canada Mobile app
Down load the free app from app stores.
Click here to download now on your iPhone
Click here to download now on your Android
Once done an account needs to be created in order to use the Subway App. If an account exists on mysubwaycard.com or order.subway.com those credentials may be used to log in.
Now you can order what you want. an order cannot be modified once it is submitted. If there is the desire to cancel or modify an order it will be to be done by contacting the restaurant where the order was placed. Restaurant contact information is found within the order details page.
Once an order has been placed there will be a charge even if the order is not picked up. Access to any previously placed remote order is found within the Profile menu.
Be sure a payment method is added in the profile menu, and select the "SHOW CARD Scan at the register" button on the home screen for a QR code to be scanned at the time of payment.
Visa and MasterCard are widely accepted. Some stores may also accept American Express and Discover.
Multiple credit, debit and Subway Cards can be stored in the App wallet.
When an order is placed on the Subway App it is possible to pay using the remaining balance of a Subway Card combined with a credit/debit card.
What is Subway My Way Rewards?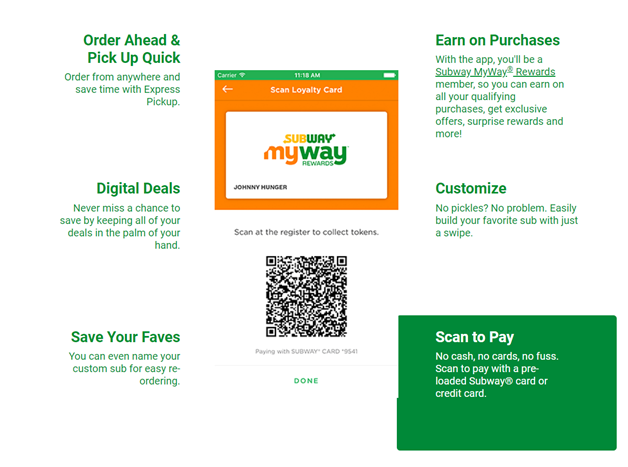 Subway MyWay Rewards is loyalty program, designed to reward loyal guests. You can collect tokens to earn $2.00 Rewards, personalized offers, Surprise Rewards.
Anyone can join, as long as they're eligible! You must be at least 13 years old and reside in the United States, Canada, Puerto Rico, Guam, the Northern Mariana Islands or select Army and Air Force Exchange Service (AAFES) and Navy Exchange Service Command (NEXCOM) locations.
Earn 4 tokens for every dollar you spend on food and beverage purchases in Subway restaurants. Once you hit 200 tokens you earn a $2.00 Reward for a future Subway purchase. Earn tokens a variety of ways. You'll earn when you order on the go or in-person. When ordering at a restaurant in person, you will earn tokens if you identify yourself in one of three ways listed below:
Scan your digital Subway Card (with your Subway App)
Swipe a registered plastic Subway Card
Provide your phone number at Subway restaurants
You can keep track of the tokens that you have earned in three ways:
1. Email: if you've opted in to receive marketing emails, you'll get a statement monthly in your inbox.
2. Online: check your Dashboard! Log in to see your rewards, how many tokens until your next reward, and current offers. You can manage your preferences online too.
3. Subway App: download the app to access your tokens, rewards, and offers.