Pokemon Rumble Rush new game for Canadians to enjoy on your mobile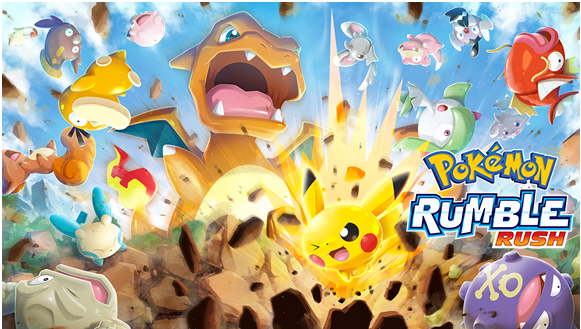 Pokemon's new game Rumble Rush has been released for Canadians to enjoy all free with their mobile smartphone. Pokémon Rumble Rush features real-time battles where players send their monsters rushing toward enemy Pokémon. The first Pokémon Rumble game was released in 2009 on WiiWare and since then the series has popped up on a few different Nintendo platforms. This new entry in the series will send players to explore various uncharted islands where Pokémon can be defeated or befriended.
Pokemon Rumble Rush game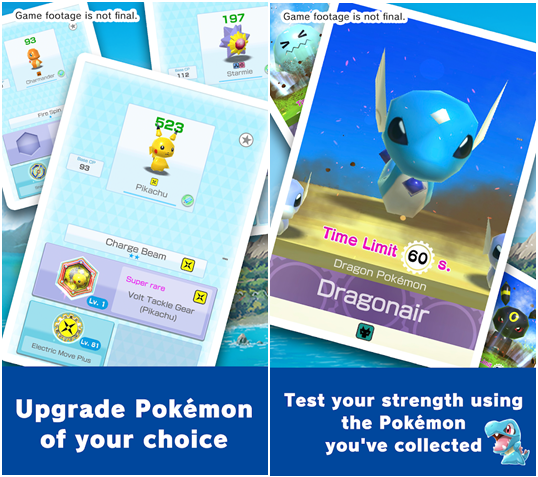 While Pokémon Rumble Rush isn't a multiplayer game, if you're the first player to discover a new island you'll have the chance to name it. You can also head to islands that other players have explored to try your hand at finding rare, or even Legendary, Pokémon and hidden secrets. So aided by strong Pokémon and a spirit of discovery, journey through uncharted islands that have many Pokémon!
As you battle wild Pokémon, some of them will join your team. Keep collecting more Pokémon to build up an assortment of heavy hitters. The more you collect the same species of Pokémon, the stronger those Pokémon will be when they join you! You'll need to gather a crew of powerful Pokémon partners to take on the islands' Super Bosses. Your Pokémon partners won't be heading into battle without any help, though! As you explore each island, you will earn gears that your Pokémon can equip.
There are two kinds of gears—power gears, which boost a Pokémon's individual stats and make it more effective in battle, and summon gears, which allow a Pokémon to temporarily call another Pokémon into battle. Choose the best gears to help your Pokémon come out on top!
Features of Pokemon Rumble Rush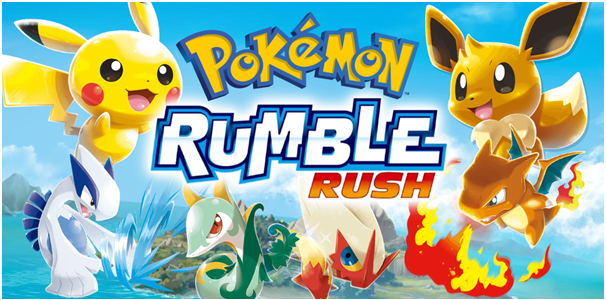 It's easy to control your Pokémon with one hand. Clear stages by controlling your Pokémon as it moves forward. If you see enemy Pokémon, you can attack by just tapping the screen. Tap to engage in exciting gameplay action!

The islands and seas explored during your adventures change every two weeks. You may find unfamiliar and stronger Pokémon on new islands. So, journey through various islands and seas and collect more and more Pokémon!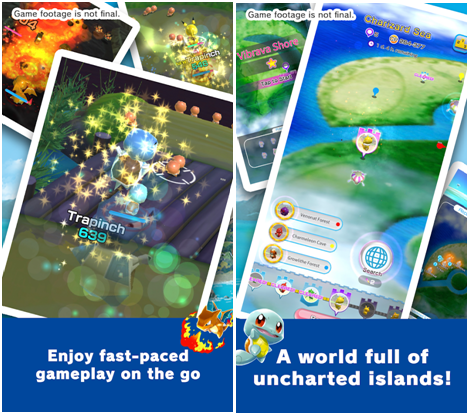 Upgrade Pokémon of your choice and you'll sometimes receive ore when you clear a stage. Refine ore to get power gears that you can use to make your Pokémon stronger. You may even be able to refine ore into a summon gear that calls forth a Pokémon to use a powerful move. Use power gears and summon gears to help your favorite Pokémon do well!

You can test your strength using the Pokémon you've collected and occasionally, you can earn rewards by working your way through the Super Boss Rush. You'll need many different types of strong Pokémon to win each Super Boss Rush. Harness the power of the Pokémon you've collected from various islands and seas to defeat the powerful Super Bosses.
Few tips to win at Pokemon Rumble Rush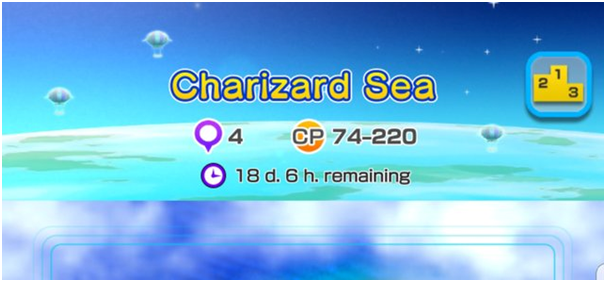 To unlock more areas: In Pokemon Rumble Rush, Areas, like Charizard Sea, will rotate about every every two weeks. So, for any one two-week period, only a single area will be explorable. Look at the top of the Adventure screen to see how many days remain. During this time period, certain limited-time Gears will also be available.
To unlock and find different Pokemon: These islands feature certain types of Pokemon and certain Super Bosses. Defeat these Super Bosses to make more species of Pokemon appear in the area.
To find certain Pokemon: The name of the stage reveals the boss you'll encounter at the end, but each stage can have different Pokemon even if they have the same name. For example, one Magmar Cave may have Charmander and Sandshrew, but another may also have Ratatta. Also check Rumble Rush List of Pokemon Locations if you're looking for a particular 'mon.
To find more Stages: You'll have to use a Guide Feather to search for more stages. Each region of an island will have different types of prevalent Pokemon depending on the area you search in. For example, Fire-type Pokemon may be more common in the north, while Pyschic-type Pokemon can be found in the middle. Expand your searches to see which region contains what type of Pokemon, or use our guide for that specific island, like Charizard Sea.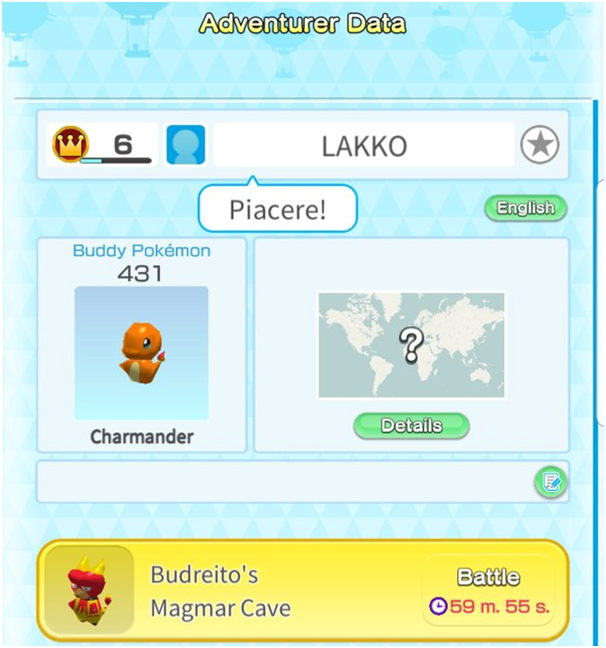 To repeat Stages: Once you find and complete a stage, it will be added to the left of your screen to be repeated. However, only the last three found stages will be available to repeat. Make sure you capture all the Pokemon you want before spending more Guide Feathers!
Air Balloons in Pokemon Rumble: You can tap a traveling air balloon to play a special Adventurer's stage. These can only be played once and will not take up a repeatable stage slot, and you'll have that person's companion Pokemon to help.
To capture Super Bosses: Super Bosses cannot be captured during their initial challenge. Try using a Guide Feather exactly where the Super Boss marker appeared – that should unlock their stage.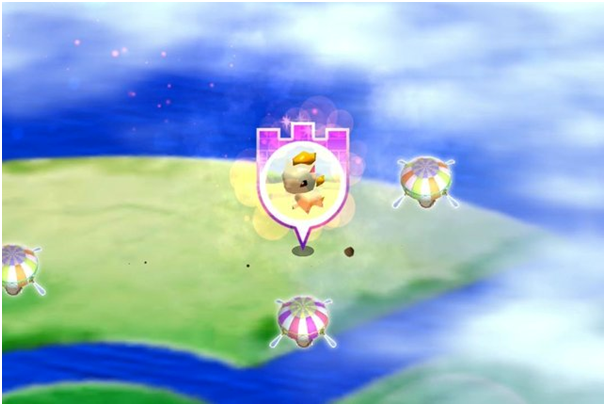 To grind Boss Pokemon: If your only goal is to capture a boss Pokemon at the end of a stage, you can skip through the rest of the stage quickly by dodging toward the end. Dodge by swiping the direction you want to go.
To get stronger Pokemon: Super Bosses have certain CP requirements, so you'll want to raise your Pokemon's CP as much as possible. However, Rumble Rush doesn't work like traditional Pokemon games. The only way to increase an individual Pokemon's CP is by using Move Gears. But, this isn't the most efficient. Repeatedly playing stages will steadily increase the CP cap of the Pokemon you can find. Repeat stages, and keep catching the same types of Pokemon, to steadily increase their strength so equip them with Summon Gears, too! Pay Attention to a Pokemon's move as CP is important, but a Pokemon's move is rated 1, 2, or 3 Stars. Going with a Pokemon with slightly lower CP, but with a 3-Star move, is the way to go.
Pokemon have more Stats than CP: If you're having trouble, make sure to look at the individual Pokemon's stats. For example, some Pokemon have great HP, but terrible attack, or vice versa. Switch Pokemon based on the trouble you're having, like if you die too soon, or can't do enough damage.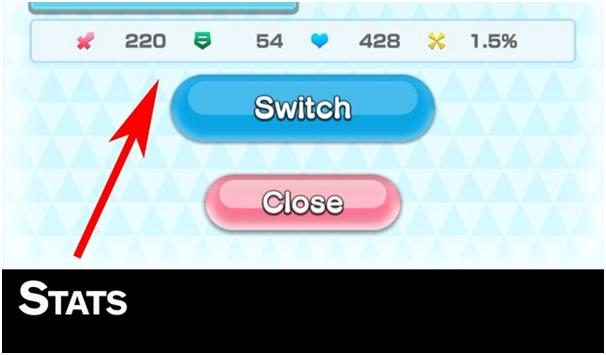 To equip a Summon Gear: Even if all you have for now is the Rattata Summon Gear you got in the Tutorial, it's still 100% worth equipping it, and using it as often as possible. Summon Gear attacks do a lot of damage to multiple Pokemon at once! To gain access to Pokemon with higher CP, defeat more Super Bosses.
To capture Pokemon that Run: Some rare Pokemon, like Abra, will run as soon as they're hit. Hold down on the screen to charge up power, then release it on the runaway Pokemon to knock it out in one shot. This will prevent it from being able to run!
Your Pokemon's attack determines what it's super-effective against, not your Pokemon's own type. So even though Krabby, a Water-type Pokemon, is weak to Pikachu's Electric-type moves, if Krabby has a Ground-type move like Muddy Water, it will do more damage to the Pikachu.
You need to attack Sparkling Pokemon First: Pokemon with sparkles around them aren't Shiny Pokemon, but instead, are guaranteed to be caught if defeated, and will also likely be stronger than normal. Make sure to focus on them to catch them!
Check your Ore: Each Ore comes with one guaranteed Gear, which you can check by tapping the purple "i" on the top right of the Ore in the refining screen. Check these before determining which to get rid of and get Rid of Normal Ore. Plain old regular Ore is ready in just 30 minutes, but it holds the least amount and least powerful Gears. If you need to make room, get rid of it – or use a Ticket if you just can't bare to part with it.
Some Pokemon need to be caught Multiple times: Like all Pokemon games, Pokemon Rumble Rush has a Pokedex. However, some rare Pokemon, like Eevee, need to be caught up to three times to actually be shown as "caught" in the Pokedex.
Get the Pokemon Rumble Rush App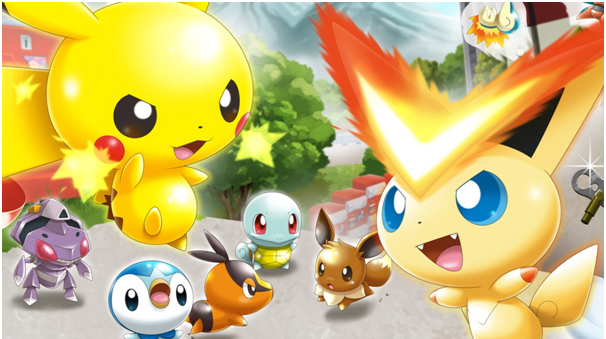 Get Pokemon Rumble App for Android from Google Play. Pokémon Rumble Rush is compatible with the Android 4.4 or higher, Snapdragon 410 or higher. Also be aware though that Pokémon Rumble Rush may not function on some devices. For iOS you can look for this app at iTunes store.
Pokémon Rumble Rush is a free-to-start adventure. You will also be able to purchase in-game items using real-world currency.
Also note that Pokemon Rumble app consumes quite a bit of battery so toreduce how much it sucks up. Within the app, go to Menu > Options > Game Settings. You should see a Graphics option slider – set it to Power Save mode.This will automatically turn all Graphics settings to the lowest which you can see by tapping More in the top right. Also reduce your brightness settings on your mobile and get ready to enjoy the game.