Earn $10 placing your first order with Ritual App on mobile
Spend only $1 in ongoing Food Fest in Ottawa and Vancouver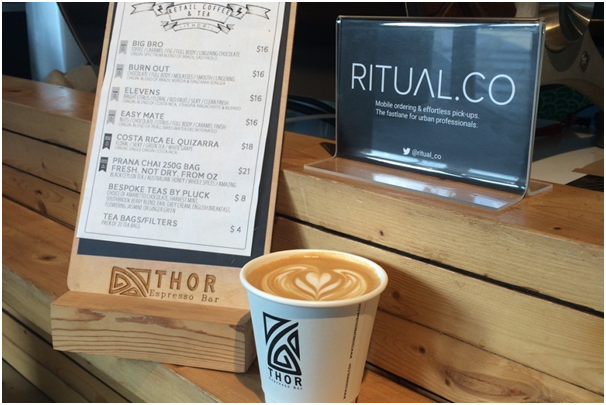 Ritual is a great mobile app available to Canadians for their iPhone or Android cell phoneswhere you can enjoy rewards at the best restaurants and coffee shops in your city. Right from handcrafted coffee and freshly prepared lunches to order on your mobile will help you save time while you enjoy the most popular food and drinks. Just browse the various food joints in your city from the app and know what they have to offer like burgers, salads, sushi, pizza, or anything you want to eat or drink and order with Ritual app.
Features of the Ritual App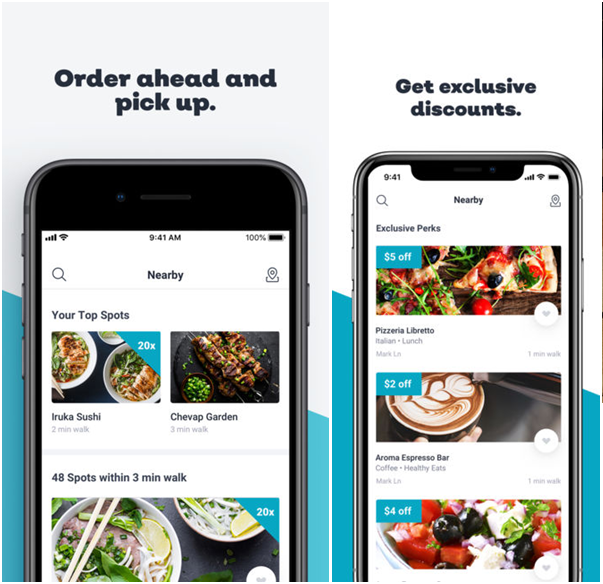 With Ritual, ordering and picking up takeout is effortless.
There are never any added fees.
Find your cravings via their intuitive search or browse the menus of restaurants near you to order coffee, lunch and dinner right from your phone.
Come to know when to leave for pick-up. Your food and beverages are made fresh and ready when you arrive, so you can be in-and-out in seconds.
You'll also collect points on every single order. You can use your points to unlock special offers at your favorite spots, or redeem them for $ to spend on free coffee and food anywhere on the Ritual network.
Ritual makes it super easy to pay with either your personal or company credit card. Businesses can also conveniently subsidize coffees, lunches, dinners, or treats for their employees through Ritual.
Download Ritual app all free for iPhone
Download Ritual app all free for Android
Remember Ritual will only use GPS when you have an active order, so you can get your food and preserve battery life.
Earn $10 on your first order. Click here to sign up for Ritual and earn $10 after you place your first order.
Click here to know other point rewards and discounts that you can earn
Dollar Fest from Ritual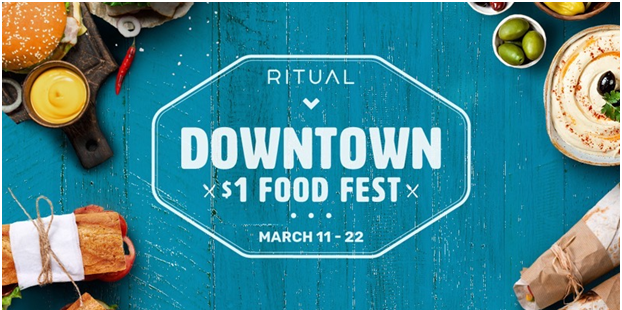 Ritual App has launched $1 in ongoing Food Fest at Vancouver and Ottawa. This bonus offer is available till March 22nd so hurry up.
Dollar fest is available to users in Vancouver, B.C. and Ottawa, Ontario. In a promotional message Ritual explains it is "encouraging people to get out of the office to enjoy local food favourites with their teammates, skipping the long lunch lines and saving money." The $1 Food Fest goes from March 11-22 and allows customers to place multiple $1 orders through the Ritual app on iOS or Android.
During the festival, you'll be able to order meals that are typically priced at over $10 for only $1! To make the deal even sweeter, you can order multiple times at different restaurants throughout the festival. To find a complete list of participating restaurants, search "DOLLARFEST" in-app.
Here below are the participating restaurants in both Vancouver and Ottawa, according to Ritual:
At Ottawa following restaurants are involved in $1 promotion and you can have what you want Restaurants are Bar Robo, Booster Juice, Bridgehead, Cafe Saffron, California Thai,Capital Diner, Capitol Burger Counter, DreamLand Café, Eatz Mediterranean Cuisine, Fiazza, Freshii, Friends Coffee Co, Fuel Bar, Green Rebel, Iconic Café, India Palace Restaurant, Mad Radish, Mercadito, Orient House, Presotea Bubble Tea, Presse Café, Rice & Roll, Sen Kitchen andToro Taqueria
At Vancouver following restaurants are involved in $1 promotion; Blaze Pizza, Bovine Rice Bowls, DAVIDsTEA, Enzo's Café, Five Guys, Fresh Tastemade / Soup Zone, Herbs and Spices Café,India Gate Restaurant, La Taqueria Pinche Taco Shop, Le Viet Cuisine, Nuba in Yaletown, Paramount Fine Foods, Pokeworks, Rue 909 Sushi, SalaThai, Spicy 6, Umi Sushi Express, VitaSave and Yah Yah Ya Ramen Downtown.
Download Ritual https://invite.ritual.co/DOLLARFEST
Search "DOLLARFEST" in-app to see all participating restaurants
Order and pick up your $1 meal
Invite friends to enjoy the $1 Food Festival with you!
Note that there is Limit of 5 redemptions per customer. Offer can only be redeemed once per day during the festival duration. Offer can only be redeemed once at each restaurant during the festival duration. Existing Ritual users must refer someone new to Ritual to gain access. The referee must place their order before March 22nd.
Ritual currently is available in 20 major cities across North America, Australia and the UK. It offers those picking up food for colleagues bonus points, which they can redeem for free meals.